Thaxton, Virginia
We have been breeding, showing and hunting our terriers since 1996. We are located in southwest VA near Peaks of Otter. Our breeding program places emphasis on genetic soundness, great temperament, hunting instinct, and structure that supports sound function.
All stock are DNA tested for disease traits, BAER tested, CERF and Brucellosis tested and micro-chipped.
DNA results can be found at Paw Print Genetics, OFA and some on the JRTCA Health Results.
Males at stud:
JAMES RIVER STRYKER
(Smilin' Jack Khaki x Hart Farms Beacon)
JAMES RIVER TJ
(James River Titus x Hart Farms Secret)
FEMALES:
JAMES RIVER DALLAS
(Northgate Dylan x Hart Farms Secret)
JAMES RIVER REAGAN
(Northgate Beacon x Smilin' Jack Khaki)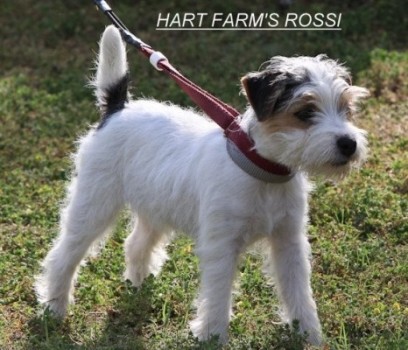 Contact Information
Charles and Sally Hickey
1579 Irving Road • Thaxton, VA 24174
(804) 822-0033 • Email: cwhdvm@reagan.com
Website: JamesRiverJackRussellTerriers.com