Mount Vernon, Washington
Nestled in the beautiful Skagit/Tulip Valley north of Seattle, J&J Terriers has bred for temperament, conformation, and working ability since 1995. Loving care and handling of our puppies from birth and careful development of bloodlines has produced wonderful Jack Russells for family companions, the show ring, and the hunt field.
J&J JAMAICAN
(J&J Java x J&J Foxy Roxy)
(Co-owned by Janet Sproles, Patty Freimark and Janice Freimark) Jamaican's pedigree is a special house blend of our retired boys J&J Mocha Pudge,  Tortilla Flat Tumbleweed, and Maypole Joe. He's been conformation champion several times as a puppy and young adult, is a great ranch hand and is always a gentleman.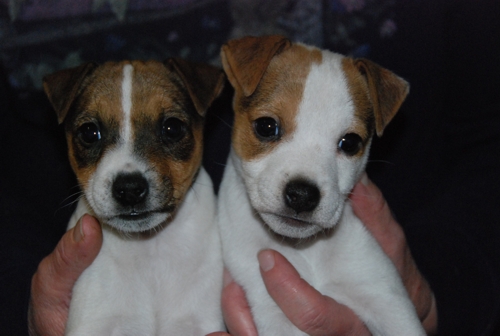 Pups from a recent litter.
Contact Information
Janice Freimark
14053 Best Road • Mount Vernon, WA 98273
(360) 428-3661/(480) 773-1726 • Email: JaniceFreimark5@msn.com