Mio, Michigan
Woofgang is located on 36 wooded acres in beautiful northern Michigan. Producing intelligent, hard working and conformationally correct companions is our goal. Our handsome pups have exceptional personalities and good temperaments. Raised on the hearth in our living room, Woofgang pups are well socialized, confident and treated as members of our family until welcomed into yours.
WOOFGANG JIG, 14″, Tricolor, Smooth
(Little Eden Salsa x Woofgang Pocket)
WOOFGANG LUNA, 12″, Tricolor, Rough
(Woofgang Wish x Little Eden Remedy)
WOOFGANG WHIMSY, 11¾", Tan/White, Rough 
(Woofgang Luna x Quinn's Hammond's Aiken)
WOOFGANG MAEVE, 13″, Tricolor, Broken
(Woofgang Jig x Little Eden Rocky)
AND INTRODUCING:
WOOFGANG BRIONY, Tricolor, Broken
(Woofgang Jig x Little Eden Dempsey)
All of our terriers are PLL, SCA, DM and BAER normal and CERF tested annually.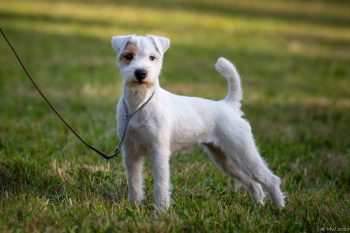 WOOFGANG WHIMSY "Whimsy" is a lovely, small, balanced bitch with an engaging, expressive personality. She has her mother's small, flexible chest and beautiful angles. She reminds us of her Grandma "Wish" and we are thrilled to continue Great Grandmother "Fang's" line with this lovely young terrier.
Contact Information
Joyce Kruger
2038 Mapes Road • Mio, MI 48647
(989) 826-3610 • Email: woofgang@m33access.com
Website: www.woofgangkennels.com