Greenview, California
British Grit is located on 160 wildlife inhabited acres in far northern California. Our breeding program has consisted of line breeding genetically sound terriers, many of whom had gathered high honors at the national level in Conformation. If you are seeking a healthy, good looking, athletic, devoted family member, give us a call to receive photos by email and answers to your questions.
We would like to thank our American, South African & English breeders.
We owe a great deal of our success to America's Debra Ellis Ransom. We obtained through her British National Reserve Champion in Conformation, Sayner's Smudge, several David Jones dogs, Mazie, George Jones, Loblolly Jim, and our 1997 National Puppy Conformation Champion, Farmstead Digit.
In 1999, Sandhi Rogerson bred and shipped from Johannesburg, South Africa our two Treesbank girls.
In 2005, Brian Male of England bred and flew Foxnorton Puggy, our sweet stud dog whose sire, Garnicol Punch, was bred by Bridget Sayner and is related to Britain's famous Billbridge Weed.
In 2009, Anu Makela and Greg Mousley of England shipped us both their Meynell-Sundance Sazzy, our lovely dispositioned hunting momma by parents Snatch & Duffy and also Martyn & Liz Hulme's Rushill Jay by parents Dodge & Maggie, our hunter-agility queen.
We have visited many wonderful breeders who have opened their homes, hearts and kennels to us. They were very gracious indeed! Thank you all.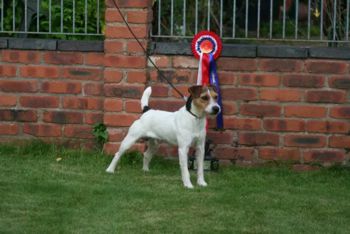 MEYNELL-SUNDANCE DONALD, 13½", Tricolor, Broken (Meynell-Sundance Dude, 13" Tricolor Broken x Meynell-Sundance Wales, 12½" ,Tricolor, Broken) ~ 2016 JRTGB National Champion Puppy in Conformation
Contact Information
Hans and Nancy Aberg
PO Box 269 • Greenview, CA 96037
(530) 408-8334 • Email: BritishGritInfo@gmail.com
Website: www.britishgrtit.com