Boxford, Massachusetts
At Diamond Gates, all our terriers live in our home, are well cared for and very socialized with our four children for over a decade. We are active in the JRTCA trials dedicated to the breed. We strive to produce happy, healthy and loving puppies with award winning personalities, great temperaments, good looking and conformationally correct, whether it's a cherished pet or in the show ring. We are PLL, SCA and DM clear. BAER (hearing) tested and CERF (eyes) tested annually.
At Stud:
DIAMOND GATES GRANITE
(Diggin West Shuffle x Diamond Gates Tanzanite)
DIG IT ROCCO, 13¼", Tricolor, Smooth
(Shelmar Double Dose x Little Eden Sassafrass)
LITTLE EDEN EXTREME, 12¾", Tricolor, Rough
(Little Eden Strut x Mountain Legends Diva)
Our Girls:
DIAMOND GATES JADE
(Dig It Rocco x Fall River Onyx)
DIAMOND GATES DIOR
(Quinn's Hammond's Aiken x Dig It Cleopatra)
DIAMOND GATES RUBY, 12″, Black/White, Broken
(Diamond Gates Granite x Diamond Gates Jade)
DIAMOND GATES DELILAH
(Quinn's Hammond's Aiken x Diamond Gates Dynamics)
Please visit our web site for our latest news.
You are always welcome to contact us anytime.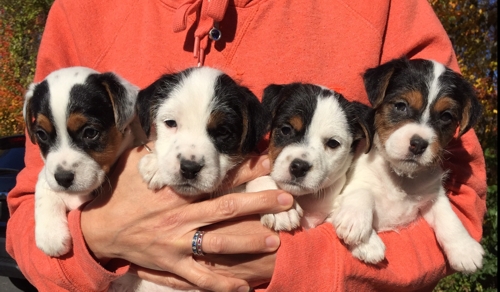 Contact Information
Lisa & Ernest Cioto
256 Washington Street • Boxford, MA 01921
(978) 352-4724 • Email: DiamondGatesJRT@aol.com
Website: www.DiamondGatesJRT.com