Cache, Oklahoma
We have been happily owned by our Jack Russells for over 22 years. We cannot imagine life without them! We are committed to producing a well-rounded terrier that has correct conformation and a great temperament. Our passion is to raise the All-Around Athlete. Performance of our terriers is what we strive for, be it in the field, competing at a JRTCA trial or just playing at home! There is nothing more fun than working with your terrier doing what they naturally love. Our pups are raised in our home and experience many different challenges from a very young age. All of our dogs are PLL, SCA and DM clear, and are BAER and CERF tested. They are well-socialized, ready to join your family as a companion and/or competitor.
Our Girls:
Wonderful pets, excellent mothers and amazing competitors:
LEAP'N RIVER LULU, 12¼", Tricolor, Broken
(High Range Rey x Jack'n Around Patch)
Small girl with huge drive! She excels in all she does.
JACK'N AROUND FOREVER MAUREEN, 13½", Tricolor, Rough
(Jack'n Around Maddog Maksim x House O'Jacks Journey)
She has done well in the ring, is eager to please and a wonderful temperament.
JACK'N AROUND DIAMOND GIRL, Tricolor, Rough
(Jack'n Around Maddog Maksim x Rock Chalk Clarissa)
She got out in the field last year and showed great promise, earning her NHC to Groundhog.
JACK'N AROUND DELILAH, 12¼", Tricolor, Rough
(Snowcrest Death Dealer x Rock Chalk Clarissa)
Sweet, sweet girl and oh, what an athlete! I am excited for many years of fun with her!
JACK'N AROUND SEAR'S EMBER, Tricolor, Rough
(Bona-Venture Biscotti x Leap'n River Lulu)
This sweet girl has amazed me! We enjoyed an amazing puppy career, winning several Puppy Highpoint awards.
Can't wait to see what she does as an adult!
OUR BOY:
DIGGIN WEST JITTERBUG, Tricolor, Rough
(Allstar Fozzie x Diggin West Jive)
This beautiful guy has an amazing temperament, nice bone, and coat. He has done very well in the ring.
Limited availability for approved bitches.
Please feel free to call, I love to talk terrier!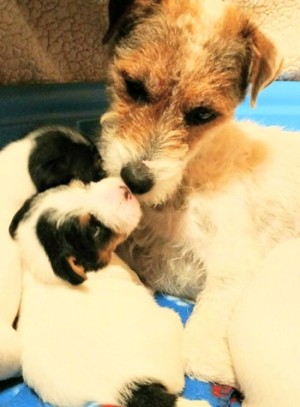 JACK'N AROUND IZZABELL
Contact Information
Sarah Williams
211 SW 154th Street • Cache, OK 73527
(580) 919-0902 • Email: swilliamsjrt.55@gmail.com
Website: www.jacknaroundjacks.com