Cache, Oklahoma
We have been happily owned by our Jack Russells for over 17 years. We cannot imagine life without them! We are committed to producing a well-rounded terrier that has correct conformation and a great temperament. Our passion is to raise the All-Around Athlete. Performance of our terriers is what we strive for, be it in the field, competing at a JRTCA trial or just playing at home! There is nothing more fun than working with your terrier doing what they naturally love. Our pups are raised in our home and experience many different challenges from a very young age. All of our dogs are PLL, SCA and DM clear, and are BAER and CERF tested. They are well-socialized, ready to join your family as a companion and/or competitor.
Our Girls:
Wonderful pets, excellent mothers and amazing competitors:
 JACK'N AROUND IZZABELL, 13¾", Tricolor, Broken
(High Range Valor x Jack'n Around Gabbie)
A true performance champion.
ROCK CHALK CLARISSA, 12¼", Tricolor, Broken NHC Opossum
(Noble Knight Bentley x Sweet B Tuppence)
She has done very well in the ring, as well as GTG, Super Earth, Racing and Agility.
HOUSE O'JACKS JOURNEY, 12¼", Tan/White Smooth
(Saratoga Run Jag x Texas Star Endeavor)
Proven champion in the ring, to include Best smooth bitch 2015 National
(Co-owned with Toni Ryburn)
LEAP'N RIVER LULU, 12¼", Tricolor, Broken
(High Range Rey x Jack'n Around Patch)
Small girl with huge drive! She excels in all she does.
JACK'N AROUND FOREVER MAUREEN, 13½", Tricolor, Rough
(Jack'n Around Maddog Maksim x House O'Jacks Journey)
She has done well in the ring, is eager to please and a wonderful temperament.
Our Boy:
JACK'N AROUND MADDOG MAKSIM, 14¾", Tricolor, Rough 
(Leap'N Jack Bizmark x Jack'n Around Izzabell)
Maks is an amazing competitor with many wins! He has sired beautiful pups that are following in his footsteps.
INTRODUCING:
JACK'N AROUND DIAMOND GIRL, Tricolor, Rough
(Jack'n Around Maddog Maksim x Rock Chalk Clarissa)
FORGET-ME-NOT VENTURE, Black/White, Lightly Broken
(Forget-Me-Not Teller x Forget-Me-Not Kendal)
LEAP'N RIVER SIR OLIVER TALKSALOT, Black/White, Rough
(Snowcrest Detonics x Leap'n River Brillo)
Please feel free to call, I love to talk terrier!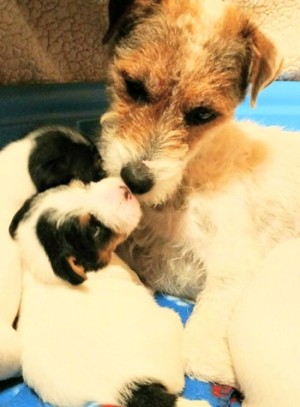 JACK'N AROUND IZZABELL
Contact Information
Sarah Williams
211 SW 154th Street • Cache, OK 73527
(580) 919-0902 • Email: swilliamsjrt.55@gmail.com
Website: www.jacknaroundjacks.com