Dade City, Florida
We are celebrating 20 years of loving Jack Russells. Terriers have taken us down many a road and introduced us to very special friends. We enjoy participating at numerous JRTCA trials each year. Puppies are our joy. We are blessed to be on our sixth generation. We have introduced several outcrosses from healthy, traditional terrier stock to our line. We are proud of our offspring who trial, work, and bring pleasure to their families – loving pet homes are welcome.
The Boys ~ Producing Correct and Healthy Puppies:
PEAKVIEW BARKER, 12″, Tricolor, Smooth.
NHC to Opossum and Groundhog.
JUST JACK, 12¼", Tricolor, Smooth.
4th generation West Elk breeding.
The Girls ~ Excellent Mothers, Passing on Character and Personality:
WEST ELK BLONDIE, 12¼", Tan/White.
Multi-champion Conformation, GTG and Super Earth.
WEST ELK KIT, 12¼", Tricolor, Broken.
A beautiful outcross, bright and strong.
WEST ELK SPECK, 12″, Tan/White, Broken
Fifth generation of our bloodlines.
MOON CREST LIBATION, "Libby" 12¾", Tricolor, Smooth
A great outcross.
Introducing ~
WEST ELK FERN, 11″, Tricolor, Smooth
Daughter of Libby & Barker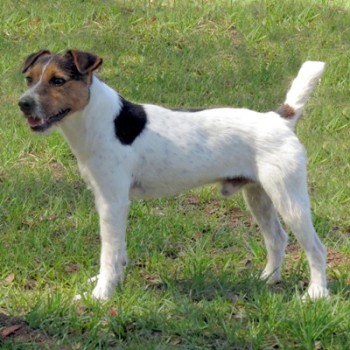 Meynell Sundance DIESEL, 12¾", Tricolor, Broken. Imported from Great Britain, outcrossing to finest traditional Jack Russell bloodlines.
Contact Information
Don & Sue Anne Wilson
Dade City, FL 33525
(602) 448-7046 • Email: WestElkJRT@gmail.com
Website: www.WestElkTerriers.com