Bartow, Florida ~ Ellijay, Georgia
At Conasauga our goal is to consistently produce quality Jack Russell Terriers that are good looking, healthy and intelligent, with a disposition that can enjoy a day in the hunt field and an evening on the family room sofa. All our terriers are valued members of our family, and live in our home where they receive our loving, devoted attention.
We are a small kennel, where space is limited, so we breed only a couple of well planned and researched litters each year. Stud dogs are carefully selected on hunting ability, temperament, and conformation, then carefully matched to our girls. We produce puppies that win in the ring, hunt with the best and snuggle on your sofa as your trusted best friend.
At Stud:
CONASAUGA BEAU, 14″, Tricolor, Broken
(Raus Hill Beau x Conasauga Matinee) PLL, SCA, DM (DNA normal) BB/DD
CONASAUGA REDFORD, 13¼", Tricolor, Broken
(Conasauga Beau x Conquest Flair) PLL, SCA, DM nbd BB/DD
SOUTHPOINTE ROCKEFELLER, 12½", Tricolor, Broken
(Conasauga Engage x Liberty of Southpointe) PLL, SCA, DM nbd BB/DD
CONASAUGA CHANCE, 13″, Tricolor, Broken
(Conasauga Caliber x Conasauga Brass) PLL, SCA, DM nbd BB/DD
All breeding stock BAER tested and CERF tested annually.
DNA tested or clear by descent for SCA, PLL and DM.
Please visit our website to learn more about our terriers!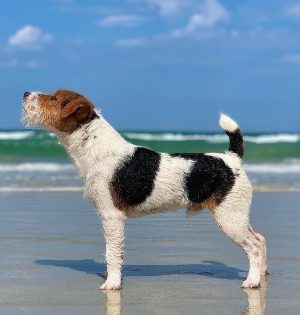 INTRODUCING: CONASAUGA JAGGER (Conasauga Beau x Conasauga CanDee)
Contact Information
Daphne & Roy Duvall
2649 Reynolds Road • Bartow, FL 33830
2814 Highway 382 West • Ellijay, GA 30540
(863) 533-1918/(863) 604-0403 (cell)
Email: digmydogs@gmail.com
Website: www.conasaugajackrussellterriers.com